the original and still the best
radio grapevine have been broadcasting live to st john's hospital since 1992
Radio Grapevine is West Lothian's Hospital Broadcasting Service. Our volunteers broadcast programmes 24 hours a day, 7 days a week, all year - every year to the patients of St. John's Hospital in Livingston.
Our studio in St. John's Hospital is equipped with CD Players, a turntable and an automated computer playout system . This allows us to provide our own programmes round the clock. In addition, because we are within the hospital, and are so close to the very people who listen to us, our presenters and request collectors can get out before and during their shows and collect requests to be played. Our extensive library of over 45, 000 songs carries almost every kind of music that you can name, and believe us, we do get some obscure requests from time to time. Don't panic, however, as we can normally play more than 99% of the requests we are asked for.
All of our members are volunteers, and we rely on the support of the generous companies of West Lothian to make it work. On top of broadcasting to the patients in the hospitals we serve, we also attend many gala days and other activities in the local community with our custom designed road show unit. Many gala days have been made that wee bit extra special with the presence of the Radio Grapevine roadshow, and our team of presenters really do know how to work the crowds to make the day enjoyable for everyone.
history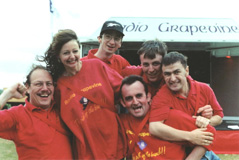 from vinyl to tape, from cd to mp3
Radio Grapevine has been entertaining the patients and staff of St John's Hospital at Howden for over 21 years.
Find out how it all began...
READ MORE
On Air
Now
make a request or dedication

Are you currently in St John's Hospital, or do you know someone who is?
Send a request direct to our studio to hear your favourite song on the radio...