From Bangour to Howden
As the newtown of Livingston sprung-up, the idea for a radio station to serve the brand new hospital grew too...
The idea for a hospital radio station in West Lothian was born in 1987, when a group of keen enthusiasts got together to map a way for the new station. At that time, Bangour General Hospital was still West Lothian's main hospital, and the new hospital, St John's, was still plans on some drawing board.
It took four years for the planning, fundraising and constant persuading to work, and by the time, registered as a charity, the station was launched in 1991, West Lothian had a brand new hospital, St John's Hospital at Howden in Livingston New Town.
By 1995, Radio Grapevine was only broadcasting for 6 hours a week. At that time too, the original Committee, who had been there since 1987, needed a rest and handed over the baton to a new and energetic team of volunteers. This new refreshed Radio Grapevine started its journey in a new and complimentary direction. Broadcasting quickly stepped up and grew to cover several hours each night, 7 days-a-week.
A lottery grant was applied for and won, to provide a trailer, fitted out to allow the station to undertake road shows at various local gala days and fundraising events. Over time, this has proved to be a popular addition to many of the local events we attend.
In 1999, members of Radio Grapevine got the chance to get involved in real radio, with the setting up of a local RSL (restricted service license) under the name of 'Real Radio'. The project proved so successful, it was repeated the following year. The management of the RSL's were eventually successful in bidding for the West Lothian commercial license, and broadcast until 2007.
At the same time of the original RSL, Radio Grapevine started broadcasting 24 hours a day, 7 days a week, with the purchase of new computer equipment.
In 2001, Radio Grapevine launched its first web site, giving basic information to anyone visiting. This has, since then, been enhanced several times, to what you can see now. Following the destruction of our original road show trailer in 2002, a new unit was bought offering far more comfort and flexibility.
This also led us to review the events the trailer was needed for. Given that it is 6 metres long, and weighs over 2.5 tonnes, it is too large or heavy to take to most venues. Instead, we now offer a flexible approach based on the size needs of the particular event. Sadly we no longer broadcast to St Michaels, Bangour or Tippethill, but the station continues to grow, providing live programmes every day of the week, to St John's, and has music and entertainment to suit every taste.
Radio Grapevine needs you. We offer the opportunity to be part of an exciting organisation, providing a professional quality service to listeners in West Lothian. If you want to know more, or be part of this history in the years to come, click here to find out about joining.
Although commercial radio in West Lothian no longer broadcasts, Hospital Radio is growing stronger day by day – that's Radio Grapevine!
Be Part of our Future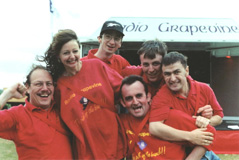 Volunteer with Radio Grapevine
For over 21 years we have been entertaining the patients and staff of St John's Hospital...and this has only been possible thanks to the dedication of our volunteers, both past and present!
Join us today and be part of our future, and keep Radio Grapevine the highly successful, award-winning hospital radio station it is today!
READ MORE
On Air
Now
make a request or dedication

Are you currently in St John's Hospital, or do you know someone who is?
Send a request direct to our studio to hear your favourite song on the radio...