Presenter: Stuart Hogg
Presents: The Big Band Theory & Pick 'n' Mix
My name's Stuart, I present the Midweek Special request show every Wednesday from 8:30pm-10pm. I joined Radio Grapevine in 2006. I started as a request collector for the Wednesday night crew. I've never actually left a Wednesday night since I started! I was gradually given time on air after about a year. I can still remember my first words when I put the microphone on for the first time myself, and I was live to the whole of St. John's...those words were "Umm...hi!" Fair to say I've improved slightly over the years!
I'd say I'm quite a hyper person, especially on- air, thanks to the company I have that night in the form of my Producer, Aimee. We do tend to go off on tangents, but it's the best banter ever! That's one thing I love about Radio Grapevine is that no matter how my day was, as soon as I walk into the studio I forget about everything and just have a laugh.
I'm a massive Keane fan. Barely a week goes by where I don't play them, but I also love a random mixture of everything: Frank Sinatra, Example, The Killers, Snow Patrol and lots of others!
Away from Grapevine, I hang out with my girlfriend, Aimee (who also happens to be my producer), going out with mates, work, play five-a-side football and I'm partial to the odd karaoke evening out or in! Random fact, I once sang in a talent show with THE Susan Boyle. Yup, we're best chums, me and wee Subo...not really, she tried to get us to duet once but I had to turn her down. Think I got a better deal tho...I mean where is her radio show? Huh?
Our Presenters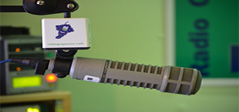 See the faces behind the voices
Our team of talented, award-winning and dedicated presenters bring you West Lothian's biggest Hospital Radio hits...but who are the people behind the voices?
See our Presenters
On Air
Now
make a request or dedication

Are you currently in St John's Hospital, or do you know someone who is?
Send a request direct to our studio to hear your favourite song on the radio...