Presenter: Stuart Aitchison
Presents: Something Old, Something New
I have always been interested in music and what better way can you be involved, but with the radio. I was on a course with the late Steve Hamilton (Radio Presenter & voice over for The Wheel of Fortune) and he suggested that I write to the local hospital radio station as I was interested in getting involved with radio.
My favourite music is Tamla Motown, Northern Soul & I recently started listening to Club music. "The Tramps" are one of my favourite bands though.
I present "The Something Old, Something New Show" a request/dedication show playing all types of music every Monday at 8.00PM.
I do enjoy presenting my show to the patients, hopefully putting a smile on their face.
Our Presenters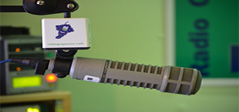 See the faces behind the voices
Our team of talented, award-winning and dedicated presenters bring you West Lothian's biggest Hospital Radio hits...but who are the people behind the voices?
See our Presenters
On Air
Now
make a request or dedication

Are you currently in St John's Hospital, or do you know someone who is?
Send a request direct to our studio to hear your favourite song on the radio...