Presenter: Ross COutts
Presents:The Gap
I've now been at Radio Grapevine for a CRAZY 9 years…started when I was just a little kid, and now I'm….well…a little bit older anyway!
It began on Tuesday nights as producer for Keith Reid. I still have some recordings of these shows; they are the most cringe worthy things ever. My voice hadn't yet broken and I sounded like a little girl let loose on the airwaves. Anyway on the subject of that, I went on to host the children's show every Sunday for 2 years which was great fun, before I moved into the midweek slot to present The Gap back in 2007 (now I do feel old!)
Outside the world of Grapevine I have recently graduated with a BA Honours in PR & Marketing (who would've thought it?), and asides from my radio work, I can regularly be found promoting live music across the central belt, or occasionally behind the decks in some club. I think it's appropriate to detail my fondness of a good drink here as well, though I assure you I am not an alcoholic as my Gran believes!
The Gap is all about 2 things. Good music and laughs. I play the best in new music from across the globe (including live sets from upcoming artists, and exclusive interviews), as well as classics from the Grapevine vaults. I've also been known to get myself into the strangest situations, so we have a joke about these each week as well!
TUNE IN and join the fun every Wednesday from 7pm, on your favourite hospital radio station!
Our Presenters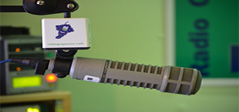 See the faces behind the voices
Our team of talented, award-winning and dedicated presenters bring you West Lothian's biggest Hospital Radio hits...but who are the people behind the voices?
See our Presenters
On Air
Now
make a request or dedication

Are you currently in St John's Hospital, or do you know someone who is?
Send a request direct to our studio to hear your favourite song on the radio...