Presenter: Richard Smith
Presents:The A to Z of Pop
"Hello there, Richard Smith here from The A to Z of Pop.
I first started out in Hospital Radio in Nottingham 35 years ago (blimey, that's gold watch territory), thinking I was going to be the next big thing. I soon realised that I wasn't so set about helping the station in any way I could, going around the wards, meeting and working with loads of interesting and entertaining people, fundraising etc etc.
I then moved on to become Station Manager at Radio Robin in Ilkeston, Derbyshire, where we started a station from absolutely nothing and had great fun doing it too.
Moving up to Lancashire and planning to get back into Hospital Radio when I suffered an accident in 2003 which reduced my mobility somewhat, however, with all that new found spare time on my hands I felt obliged to do something useful with it, and The A to Z of Pop concept was born.
All these years later and the shows are syndicated to more than 100 Hospital, Community and Internet-based stations in the UK, Ireland and even Australia, including here at Radio Grapevine and I am very honoured to be part of this award-winning station.
And you can find out what all the fuss is about by joining me every afternoon from 2pm, and whether it's 'A Walk In The Black Forest' to the 'Zambesi' or Abba to ZZ Top, I'll be looking at a specific letter of the alphabet on the next edition of The A to Z of Pop, on Radio Grapevine, your favourite station.
I'll see you later, ta-ra"
Our Presenters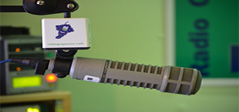 See the faces behind the voices
Our team of talented, award-winning and dedicated presenters bring you West Lothian's biggest Hospital Radio hits...but who are the people behind the voices?
See our Presenters
On Air
Now
make a request or dedication

Are you currently in St John's Hospital, or do you know someone who is?
Send a request direct to our studio to hear your favourite song on the radio...