Presenter: Mags
Presents: Senior Moments
Well, as being an old timer, my time with Radio Grapevine goes right back to Day 1 in the early nineties. Then, I collected requests, made up run lists, got out all the records to be used and made the tea. I say records as we didn't have CDs till some time later.
We were a happy bunch and loved interacting with the patients. As I progressed to being a presenter I had a show called 'A Night in the Saddle with Mags'. Country music show of course.
On a Wednesday I had a request show lasting for a monumental 3 hours, broken up by playing Bingo with the patients, a very popular part, resulting in lots of laughter.
When I reached 50 I left to take a degree to further my career but, as I have now retired, I have returned to the Grapevine fold some 17 years later and enjoying every minute.
Technology may have changed but chatting with the patients and helping to pass the time during their stay in hospital is what it is really all about. I currently enjoy my Senior Moments show with music from my era and beyond sprinkled with suitable anecdotes, duly censored.
Our Presenters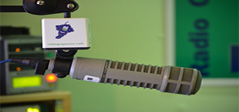 See the faces behind the voices
Our team of talented, award-winning and dedicated presenters bring you West Lothian's biggest Hospital Radio hits...but who are the people behind the voices?
See our Presenters
On Air
Now
make a request or dedication

Are you currently in St John's Hospital, or do you know someone who is?
Send a request direct to our studio to hear your favourite song on the radio...