Presenter: Keith Crombie
Presents:The Party Zone
Hello, and welcome to my profile page. This is the section of the website where I let you know a little bit about the voice behind the microphone.
I have always had an interest in radio and grew up listening to Mike Scott, Bob Malcolm and Steve Jack on Radio Forth and Noel Edmomds. Dave Lee Travis and a young Steve Wright (love the show)! on the BBC.
Whilst at High School I got the chance to present my first ever radio show for a school project and I always remember telling the careers adviser that I wanted to be a radio presenter, only to be told that it wasn't a 'proper' job!
Well a few years later I was walking around Freeport on a cold March day (every day was cold at Freeport) and stumbled across Radio Grapevine who were there with their road show unit. I had a chat with Dave B and Keith Reid and the following Wednesday night I arrived at reception at St John's feeling very nervous and ready to have my first look at Radio Grapevine. Over the following months I went round the wards request collecting which will always be the most important aspect to hospital radio. Then one night I was asked to provide holiday cover and present the Midweek Special. Shaking like a leaf and with my voice sounding really creaky I started to talk but 90 minutes later my first show was over and I haven't looked back since then.
Over the years I have been lucky enough to be able to present shows on commercial radio but I have always maintained my connection with Radio Grapevine. There is a great team spirit at the station and I have learnt a lot about radio presentation and production along with having some wonderful laughs and memories from our road show outings. However the most pleasing part is being able to spend 3 or 4 minutes playing that special song that a patient has requested and knowing that for a small part of their day it may help them forget about the reason they are in hospital.
Our Presenters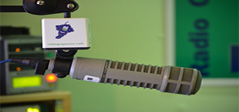 See the faces behind the voices
Our team of talented, award-winning and dedicated presenters bring you West Lothian's biggest Hospital Radio hits...but who are the people behind the voices?
See our Presenters
On Air
Now
make a request or dedication

Are you currently in St John's Hospital, or do you know someone who is?
Send a request direct to our studio to hear your favourite song on the radio...