Presenter: Shelley Nobile
Presents: Pick & Mix
I've been a member of Radio Grapevine for about 9 years, after hearing about them from a member of my family. I've always had a keen interest in music, and anyone who knows me knows I love to chat, so it seemed a good fit for me. I started as a request collector on a Sunday but after getting lost almost every week going round the wards, I soon moved on to producing the Retro Chart, then onto presenting a request show on a Thursday evening. From there I moved on to a specialist show, Soul Sessions, which I presented for 3 years before moving my musical taste to country and presenting Country Bumpkins from 2013-18 and taking over as presenter of Pick & Mix from 2019.
The volunteers at Radio Grapevine are as eclectic as the music we play, and we always have a good laugh together.
Our Presenters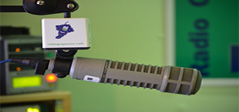 See the faces behind the voices
Our team of talented, award-winning and dedicated presenters bring you West Lothian's biggest Hospital Radio hits...but who are the people behind the voices?
See our Presenters
On Air
Now
make a request or dedication

Are you currently in St John's Hospital, or do you know someone who is?
Send a request direct to our studio to hear your favourite song on the radio...